Innovation with land and business
Are you looking for land or somewhere to start a land based business?
Are you a land owner who could offer a business operating to someone starting out?
Then Land Partnerships could offer the answer. Read on to find out more or for information about our workshops please look at our training page.
What are Land Partnerships?

Our approach is to help landowners parcel out land and buildings on which 'land entrepreneurs' can establish new, independent businesses. The approach places strong emphasis on the process of forming and maintaining sound business-to-business relationships.
By encouraging landowners and land entrepreneurs to combine resources to create new land enterprises provides the owner with new ways to diversify their operation. And it gives land entrepreneurs the chance to apply and develop their business skills without the prohibitive cost of land purchase.
This way of thinking was developed further when in 2011 a group of like minded industry people and organisations came together and helped to create the Land Partnership Handbook: A new approach – using land to unlock business innovation. We wanted to show a 'stepped' approach to encourage the generation of new businesses through a variety of methods whilst making use of existing types of legal processes and contract types already recognised in this sector. A summary of who may be able to benefit from this approach and the '5 Steps' follow but for a comprehensive understanding follow the links on this page to the handbook, our related training courses and workshops and Land Partnership case studies.

Land Partnerships Handbook
The second edition of our handbook is available now as a PDF download on this site and in hard copy at our events.
Of course, if you are interested in getting involved either as a Land Owner or Land Entrepreneur or just have any questions do contact us.
Land Partnerships Workshops
The Royal Agricultural University in Cirencester hosted the fourth event in a successful roadshow of workshops during 2016 introducing the land partnerships 5 step approach to innovative land agreements. Our workshops are designed to introduce land owners and entrepreneurs to a new way of approaching land partnership agreements and further details can be found on the flyer. Further workshops will take place during 2017 and dates will be posted here as they are confirmed.
Who can benefit from this approach?
The summary table below shows the key groups who may find our approach useful.

| | |
| --- | --- |
| Land Owners | Land Entrepreneurs |
| Late career farmers thinking about succession | Young farmers, with training and experience to set up a new farm business but without land or limited capital |
| New landowners who want to see their land used practically | Experienced farm workers or land managers now looking to take the next step to running their own business |
| Active farmers with land they wish to diversify without having to run several businesses at once | People with related business background such as food retail or horticulture and are keen to go into land base production |
| Estate owners or managers who have identified a gap in their estate system | Communities or groups of consumers who wish to set up or invest in Community supported farms/growing |
| Land owning trusts or charities looking for cost effective ways of achieving their social or environmental objectives | |
Summary of the '5 Step' Land Partnership Process

We have broken down our approach into 5 easy to follow steps. This has been designed to address both the technical and the relationship-building aspects of creating a strong business to business arrangement.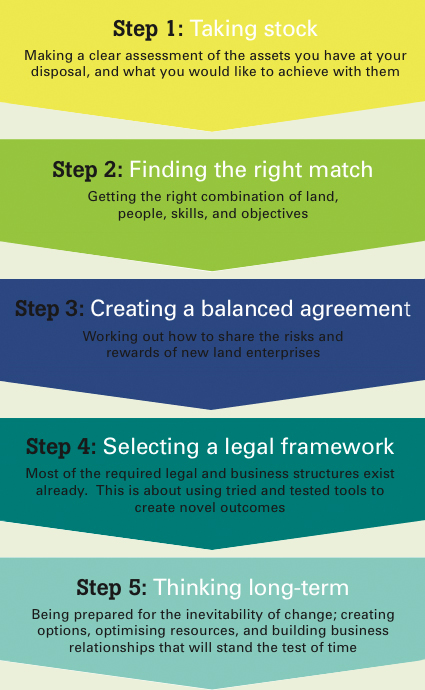 Legal agreements are an important part of this process but they are seen as follow-on to the formulation of a good business deal. We show how you can use a spectrum of legal models to create effective Land Partnerships, according to the nature and needs of the businesses involved. It is primarily aimed at setting up new lettings or contracts but it can also be used for the creative review or re-negotiation of existing arrangements.